Jodie Beechem is an illustrator, designer, and student at Portland State University. Jodie specializes in illustration based projects, but can handle just about everything you throw at her! She is very involved with the Portland community and her work is often made for local bands.
Here's what Jodie had to say about her work and process:
Tell us more about Jodie!
I'm originally from Nashville, TN but moved to Eugene, OR when I was really young. I grew up in Eugene, and then as soon as I turned 18, moved up to Portland to go to PSU. I'm currently a senior in the graphic design department there. My favorite medium to work in is pen and ink, but I also really enjoy doing digital illustrations.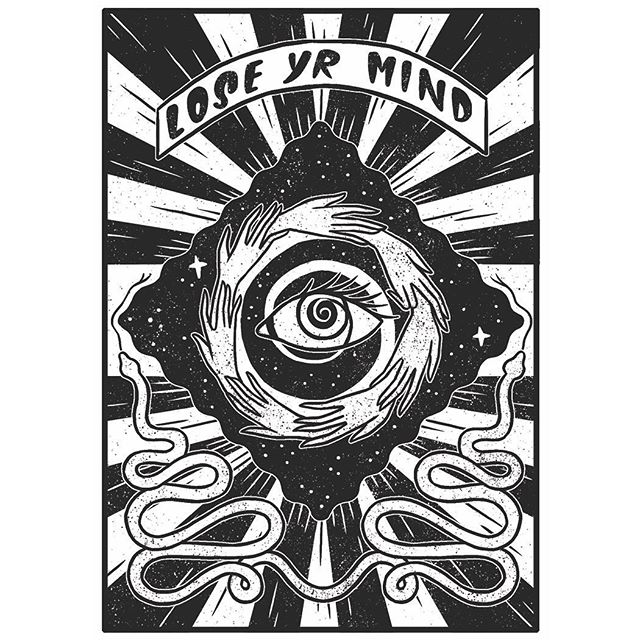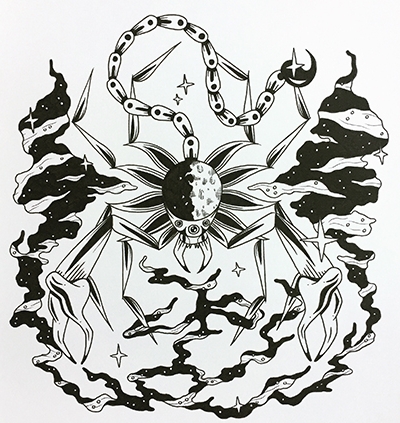 How did you find the medium that best worked for you? What was that process of discovery like?
As a kid I was constantly making art and trying new mediums. I was fortunate enough to take a bunch of art classes with some incredible teachers at Maude Kerns Art Center in Eugene. While there, I was pushed to work in all sorts of mediums–watercolor, acrylic, graphite, collage, etc. At the end of the day though, I always found myself having the most fun just using pens.
My mom is really crafty, and my dad is a crazy Einstein scientist type. I was lucky enough to get a good dose of both in my personality, and I think this is why I love working in pen & ink so much. It satisfies the part of my brain that thrives on wacky creativity, while also satisfying the part that needs everything to be perfect and precise.
What were some of your early influences to pursue an education in the arts? Did you always want to be an artist when you were a child?
I always wanted to be an artist, but it wasn't until I got a bit older that I realized it was an actual possibility. I work really well when I have a "purpose" if that makes any sense, so school seemed like the perfect way to push myself to learn and grow as an artist and designer.
I've always been really inspired by everything morbid, creepy, and weird. It's easy to find the beauty in flowers, but it's more interesting to me to find beauty in the darker parts of the world. On top of that, I've always been a huge art history nerd; I find myself lost in the stories behind paintings, and constantly find inspiration there. It might not be a huge surprise that my two favorite paintings are The Death of Marat by Jaques Louis David and The Death of Sardanapalus by Eugène Delacroix.
Outside of your art—what feeds your imagination and soul, and brings you joy?
Outside of my art, I love going to see live music at local venues. There are so many great bands here in Portland that inspire me. In turn, most of my friends are in bands, so I end up getting to do a lot of band tshirts, posters, album covers, etc. On nights where I'm not at a show, you'll probably find me either at the bowling alley or an arcade playing pinball.
Our theme last quarter was "welcoming". As an artist, what does this mean to you?
In times like these, it's more important to be welcoming than ever before. Art has a special ability to bring people together and it's so amazing to be part of such an inclusive and welcoming scene. There are so many different voices that are being showcased, and I can only hope that this gets pushed even farther to highlight more and more people from all different walks of life.
How do you hope your personal expression will reach others, through your art?
I hope people are inspired to look deeper than the aesthetically beautiful in order to discover the hidden gems of this weird world we're living in.
To see more of Jodie's work, visit her website at www.jodiebeechem.com
IG: @jodiebeechem